Evanston Summer Events: Music and More on Main Street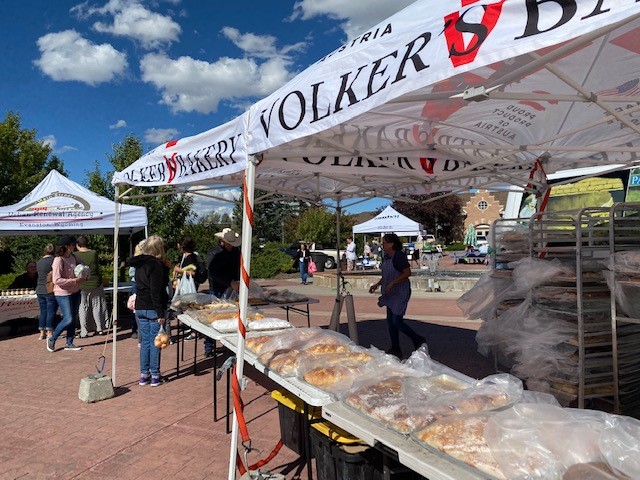 As many residents know, Evanston's downtown area is lively, warm, and charming–this is especially true during the summer months. Whether you enjoy a local Farmer's Market, live music, or a fun-filled festival, Evanston's downtown area has something for you.
Throughout the summer, the downtown area provides the perfect location for events grounded in local and regional culture. Nestled in a picturesque landscape ripe with history, Evanston's railroad roots give Main Street an old-western charm. While walking through the Historic Depot Square, visitors and residents can explore the century-old depot, a Chinese gazebo and garden, the Chinese Joss House Museum, and an original Carnegie Library. Down the street, residents and visitors can tour Evanston's treasure: the historic Union Pacific Roundhouse and Railyards.
Renewal, beautification, and preservation of history are the primary goals for the Downtown area, and the community has worked very hard to make this a reality. Come to one of Evanston's Main Street summer events, and find out why residents chose Evanston!
Come Downtown for Can't Miss Evanston Events
Throughout July and August, the downtown area hosts several recurring events. From July 6th to September 28th every Thursday, downtown will host the Evanston Farmer's Market. Running from 3pm-7pm, the Farmer's Market will feature 44 regional vendors, food stands, children's activities, and of course, fresh produce. Also starting on July 6th, downtown will host Music in the Air on Thursdays from 6pm-8pm. Sponsored by the Evanston Urban Renewal Agency & Rocky Mountain Power Foundation, Music in the Air will feature several musicians from throughout the region. If you plan ahead, you can get to the downtown area around 6pm and grab a bite at the Farmer's Market before the show!
Downtown hosts many festivals, including Brew Fest on July 15th. Offering tastings from craft brewers around the region, Brew Fest gives residents a chance to find their new favorite brew, enjoy live music and savor great food. In addition, funds from this event help sponsor Music in the Air, the Farmers Market, and smaller downtown projects such as flower pots, street pole banners, art, and Technical Assistance Grants.
Other summer events include:
July
July 4: Fresh Air, Freedom and Fun Fest at Bear Meadows
July 20: Storybook Adventures at U.C. Museum, 11:30am-3:00pm
July 22: Evanston Car Show @ Downtown Main St., 9am-2pm
July 22: Drive for Steam Golf Tourney @ Purple Sage Golf Course
July 22: Next Gen Mentoring 5K at the Bear Paw Greenway, 7:30 a.m.
July 29: Eagles Garage Sale at Beeman-Cashin Building.
August
August 2cd: Chamber "Member Only' BBQ at Depot Square, 11:30am-2pm
August 4th-6th: Roundhouse Festival at Roundhouse & Railyards
August 4th-5th: Downtown Sidewalk Sales, 10am-5pm
August 4th: First Bank Customer Appreciation Day at 10th and Main
August 25th: Ladies Moonlight Paddle at Bear Ponds/Greenway, 7pm
August 26th: Chamber's Water Lantern Festival at the BR Greenway, 5pm
Join us this Summer: Don't Miss our Downtown Delights
Evanston's downtown in the summertime has something for everyone. With plenty of activities for the entire community, residents and visitors can fill the longest days of the year with unforgettable memories. To learn more about Evanston's historic downtown or community, click here.
Evanston Economic Development
Evanston, Wyoming, Economic Development is experienced in forging new frontiers, and our sights are set on business growth and workforce development. We are on track for the future with a proactive and dynamic business climate, a dedicated and diverse workforce, and a heartfelt, small-town attitude! Consider this your invitation to visit our thriving community and find out how we can assist you in locating or expanding your business here. Our experienced staff is prepared to assist site selectors and business executives through the relocation process and to direct entrepreneurs to the resources they need. Contact us today! Follow us on Facebook, Twitter, and LinkedIn.